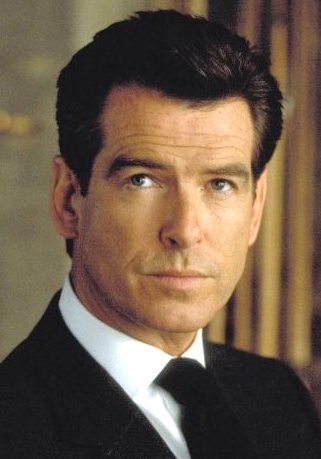 Okay, so I resisted.
I have adored Pierce Brosnan since his Remington Steele days. I knew he was meant to be Bond from the instant I saw him, and I celebrated when he was signed and mourned when he had to give up the role to Timothy Dalton because other Steele fans wanted a nice, tidy (and ultimately flat) wrap up to the series. However, when I saw what they did to those Bond scripts, I was actually glad Brosnan didn't get stuck with the politically correct, safe-sex Bond of the late 80s. Face it, no one could have made those into Bond classics and my boy would've been dipped in the stink.
After a time, things spun back around and there sat Pierce in the wings, devastating in a tux, and all ready to make the role his own. Hot damn. I looked forward to a scrumptiously long run of PB as JB.
So when the Broccolis that Be cut his run short and announced that blond Daniel Craig would play Bond in the remake of Casino Royale, I once more mourned. More than that, I boycotted. Refused to contemplate even the remotest possibility he could be a good Bond. (I mean, really, a blond!?) Never saw the movie in the theater (one of the few I didn't see on the big screen). But my hubby got a copy of Casino Royale for his birthday this week, and he wanted to watch it with me this afternoon. I adore my husband even more than I do Pierce, so I watched.
I was wrong.
Part of it was the script, fully true to the spirit of Sir Ian Fleming's books (unlike the gimmick-bloated scripts that have been the trademark of the series). It always helps when the script is right, and this one is right in so many ways. But part of it was Daniel Craig: Rugged. Dangerous. Tender. With eyes that have seen too much. Bond to his very soul.
I still adore Pierce. Shoot, how could I give him up when I even used him as the model for my hero in To Marry an Irish Rogue. I even had my agent send him a copy, hoping his production company would option it for him to do. I will most definitely go to Mama Mia when it opens July 18.
But Daniel Craig is Bond. James Bond.
I'm late to the party, but boy, am I happy to be here.
How about you? Who's your favorite Bond? What about your favorite Bond movie? Answer in comments — I'll tabulate answers and post them at a later date.