"Hendrix created a fantastic concept when she brought
the Immortal Brotherhood series to life.
Part Ladyhawk, all enthralling…It's a winner!"
~Kathe Robin, RT BOOKreviews
"Freaking brilliant!"
~ author Maisey Yates on Twitter
"Lisa Hendrix does Vikings right! I can't get enough
of this delicious series!"
~ author Megan Crane
USA Today Bestselling Author of Edge of Obsession
________
Torvald is here…
IMMORTAL DEFENDER
In her Defender's strong arms, she has no defense… 
Part of a band of Viking warriors cursed by an evil sorceress, Torvald has searched for years for a magic that can free him from his fate—to live forever as a were-creature, a man by night, a stallion by day. While studying with the alchemist to Queen Elizabeth, Torvald meets the lovely widow Josian Delamere and hopes she might be the one woman who can save him.
Unwilling to give up the independence of her widowhood, Josian expects to become merely lovers, but Torvald's tender seductions make her yearn for more. Just as she's poised to surrender her heart, a hidden enemy reveals Torvald's secret to her—and she flees the dark magic that surrounds him, in fear for her very soul.
The proud warrior can win any battle, but he cannot surmount the pain of losing Josian. Yet when her life is threatened, he will risk it all to come to the defense of the one woman who means more to him than his own salvation…
Buy Now
from your favorite digital retailer
 __________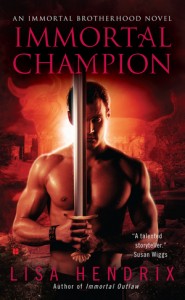 IMMORTAL
CHAMPION
TOP PICK — 4-1/2 Stars, KISS Hero
~Â RT Bookreviews
He faces a future of cold uncertainty, until her warm embrace…
Part of a Viking crew of warriors cursed by an evil sorceress, Gunnar the Red must toil through eternity as half-man, half-beast, living out his days as a great bull, while his nights are spent in human form. And though he keeps mostly to the wilds, his heart yearns for the simple comforts of man—and the chance to redeem a tragic past…
Seeking refuge from a bitter winter in the welcoming hall of Richmond Castle, Gunnar rescues two maidens when a blaze erupts—and his destiny is forever altered. For one of the young women is Lady Eleanor de Neville, who is immediately entranced by her rescuer. Her kiss of gratitude—the brief touch of her lips against his cheek—awakens a longing in her soul. And even when she is betrothed to another, Eleanor never forgets her courageous knight.
When Gunnar rides back into Eleanor's life, she is consumed by undeniable passion. And though his body surrenders to her every touch, Gunnar's heart remains imprisoned by the curse—and only the magic of the truest love can save him…
________

IMMORTAL OUTLAW
Amazon Top 10 Best in Romance, 2009
___
TOP PICK  — 4-1/2 Stars, KISS Hero
~ RT Bookreviews
For centuries he's hidden in the woods. Now a maid has come to lead him out…
It's been four centuries since Steinarr the Proud was cursed by a wicked sorceress–along with the rest of his Viking crew–to live for eternity as half man, half beast. By day Steinarr is like any other man–by night he is a lion. He has taken refuge in the woods of Nottinghamshire, England, and there he encounters two young travelers, Robin and Marian.
Painfully aware of the danger he presents when the moon rises, Steinarr initially refuses to help them search for the key to Robin's inheritance. Then a kiss from Marian awakens his desire. Driven to protect the maid he so desperately wants to possess, Steinarr joins their quest…while the sorceress Cwen gathers her dark magic to destroy them.
As a legend spreads of an outlaw in the woods, their band is joined by others. But it is Steinarr who has the most to gain and the most to lose–if he is ever to be free of the curse and free to love as a man…
__________
IMMORTAL WARRIOR
TOP PICK  — 4-½ Stars
~Â RT Bookreviews
He came to England in search of treasure.  Two hundred years later, he's found her…
Ivar Graycloak is a brave warrior, a man known for his strength and integrity. He is also a man with a terrible secret. Long ago he was part of a Viking crew cursed by an evil sorceress to live for eternity as were-creatures. An eagle by day and a man by night, Ivar has lived a solitary existence for over two centuries. Then the king orders him to marry.
Lady Alaida is everything a man could want in a bride—intelligent, spirited, and beautiful—and their wedding night is a balm to Ivar's lonely spirit. Then a seer brings him word of a dark vision, one that makes Ivar vow to stay away from his lovely wife forever. But now that Ivar has sampled Alaida's passion, her humor and warmth, he is enthralled. His traitorous body-his very heart-longs for that which he can never possess.
Lady Alaida may surprise him yet, though, for she has a power of her own-a power that will either destroy everything they hold dear or ultimately set them free…
_____________________
Other Books by Lisa
The following books are out of print. I'm working on making them available again as ebooks. In the meantime,  your local used bookstore might have a copy.
________
RUNAWAY BAY
When Jackie Barnett's boyfriend dumps her, her boss insists she go to Runaway Bay and squeeze some grant money out of the head of the Phelps Foundation, who just happens to be staying at her resort. But her arch-enemy, Reade Hunter, is there too—planning to take the Phelps Grant himself. Jackie vows that this time, he won't succeed and sets out to do whatever it takes to stay between Hunter and Mr. Phelps. Will Jackie lose the grant…or her heart?
____
To Marry an Irish Rogue
In the quaint town of Kilbooly, two people are about to meet their match….
The men of Kilbooly want to live the life of Reilly — as personified by local playboy Brian Hanrahan. But the women have had enough. They scheme to marry off The Brian to sexy reporter Tara O'Connell, a woman as hard-nosed as The Brian is carefree.
____
Razzle Dazzle
An ambitous businessman is working overtime on a very personal merger that could save his career — but his heart just isn't in it. And when Mason Alexander's meddlesome mother tries to work some magic, the result proves that business and pleasure don't mix…
____
Drifter's Moon
At first, he was a dark, handsome stranger helping Mariah protect her farm from stampeding cattle. A drifter whose stolen kisses drove Mariah's virtue to the brink. Then the truth came out — he was really Bay McKenzie, the youngest son of her family's worst enemy. Now Mariah must decide…is he part of yet another McKenzie scheme? Or is this irresistible cowboy an honorable man, a man worthy of the forbidden passion he has unleashed within her.
____
Hostage Heart
Abby traveled West to marry a wealthy cattle baron…but a handsome outlaw changed her wedding plans.  Cam Garret wanted more than ransom money. He wanted revenge…by seducing his enemy's beautiful fiancée. But it wasn't so easy. Cam had never met a woman so stubborn, so infuriating—and so utterly irresistible. In the reckless game of hostage hearts, sometimes the hunter gets captured by the prey.
_____________________